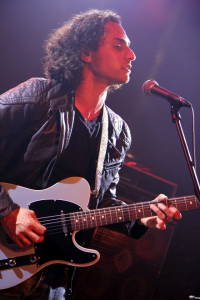 Interview by Cindy Donaghue.
With a resume of performing for dignataries at the UN, acting in popular TV shows, collaborating with main-stream musicians like Jason Mraz,  Gnarls Barkley, Black Eyed Peas, and Coldplay, and even lending his image for an Xbox game, you'd think Keaton Simons would be one of those unapproachable artists who doesn't need or want to mingle with the masses.  But when I introduced myself to him the first night of Pat McGee's Down the Hatch weekend in May, Keaton greeted me like an old friend…with a big smile and a hug.  He exudes a natural charisma, but it's his inarguable talent that draws you in.
This guy is the real deal.  Whether performing a sexy love song like Without Your Skin, or shredding rock 'n roll rifts in Joseph, he has the unique ability to fit into genres that expand the definition of singer-songwriter.  Friend him on Facebook and you'll be treated to frequent updates of music news, as well as pictures of his life with adorable girlfriend (and PR person) Laura Goldfarb of RedBoot Publicity,  and sweet St. Bernard, Bentley.  You can hear his music and see video on his website http://www.keatonsimons.com and buy his CD Can You Hear Me.

BWG:  You've been around the music scene for a while and have quite a list of accomplishments, and yet you're still so young.  How did you get your start in music?
Keaton:   Flattery will get you everywhere! Haha. I have been in love with music for my entire life.
BWG: Where did you grow up?
Keaton:  I grew up in Los Angeles, CA
BWG:  You are so musically diverse. While I appreciate the contrast that diversity brings, for some that could mean "unfocused."  I read that you performed with the alternative rap group, the Pharcyde.  I'm not sure I have a question but it's an interesting pairing, you with them. Tell me what attracts you to so many genres, and do you have a favorite?
Keaton:  Thank you. 🙂 I just love music and I don't discriminate based on genre. I've been a big hip-hop fan since I was little. I met Tre Hardson (Slim Kid Tre from The Pharcyde) when I was about 18 years old and we started jammin' immediately. Over the next few years we assembled his solo project together. It was through Tre and that whole experience that I was introduced to many of the musicians I have worked with throughout my entire career.
BWG: What instruments do you play, in addition to the guitar?
Keaton: I play just about everything! Piano, bass, drums, most other percussion instruments, woodwinds and lots of world instruments.
BWG: You seem to have a lot of freedom to choose the kind of music you perform, the venues where you perform, the interviews.  Are you currently working with a label, or more independently?
Keaton:  I am not currently with a record label, but I have an incredible team. 🙂
BWG: What/who are your musical influences?
Keaton:  There are way too many to list them all! I've listened to and studied music from all over the world. I've always been a fan of The Beatles, Jimi Hendrix, Bob Dylan, Joni Mitchell, Ray Charles, etc.
BWG:   Your own songs have been featured in dozens of feature films and television shows, and you have acted in a few too, including an upcoming appearance as "Rocker Dude" in the popular show Californication.  Is acting an avenue, along with music, you want to explore or is it a diversion?
Keaton:  Acting can be a lot of fun and I am extremely grateful to have the opportunities to explore that side of myself creatively. Music is definitely my primary focus. Nothing can divert me from that! Haha.
BWG:   The song "Unstoppable" is so tender and sweet, as though you're singing to someone you cherish.  Tell me about your song writing process.  Do you set out to write a love song or ballad, etc., or is it more organically grown?
Keaton:  I prefer everything happen organically. "Unstoppable" is a great example of exactly that. I wrote that song all alone in the wee hours snowed in on tour in Maryland on Valentine's Day and really craving connection.
BWG:   I read that you performed for Desmond Tutu. How did that come about?
Keaton:  That was one of a few performances I've had the pleasure/honor of doing for the United Nations. One of my closest friends and legendary drummer Robin DiMaggio (Paul Simon, David Bowie, etc.) is the official musical director for the UN.
BWG:    When I first met you, it was like I'd known you for years, and besides your good looks and amazing music, I feel your warmth is one of the most attractive things about you. There are musicians who manage to keep a cool aloofness when it comes to fans (and in some ways, maybe it's a safe way to keep away the crazies). That works for them, why not for you?
Keaton:   I have never been comfortable with alter-egos or stage personas for myself. There really is no separation between my personal and professional selves. I also have an extremely deep appreciation and respect for my audience. I wouldn't be able to do this without them!
BWG:   What will your next year look like?  Touring, new music?
Keaton:  You hit it on the head! Haha. I will be writing, recording, releasing new albums and touring.
BWG: Can you give any hints about where your tours over the next year will take you?  I'd love for you to come to the east coast!
Keaton:   Right now I'm trying to book some shows on the East Coast/New England in late October. It's tough right now without a booking agent and being totally indie, but I'm working on it! There will definitely be a major US tour (all over) to support the new albums coming out in 2013.
BWG: What do you do in your non-music moments?  Any other passions?
Keaton:  I have a real passion for science and nature.
BWG: So when you go on vacation, which do you prefer: lounging by the pool with a fruity drink, or ziplining through the jungle?
Keaton:  When I travel I like to immerse myself in that location's culture. So if the locals are lounging at a natural pool, I'm there. If they're ziplining through the jungle, I'm there too! I tend to avoid commercial touristy stuff and go off the beaten path.
BWG:   Tell me about the new tat!
Keaton:   I have 6 unique tattoos, but they're all pretty big, especially the ones on my arm. I almost have my sleeve complete!   The new tat is one of my favorites for sure! It's from an actual photograph taken by the Hubble Space Telescope of two spiral galaxies arranged in such a way that they look like a golden rose. Along with representing my fascination with cosmology it is also an homage to one of my favorite musicians of all time, Jimi Hendrix.
BWG 5
These are questions we ask in every interview:
BWG:  1.     Pimp a musician. Tell us about a fellow up and coming artist you'd like everyone to get to know.
Keaton:  Check out my friends the Jason Adamo Band! You'll thank me. 🙂
BWG:  2.     In a word, what is the meaning of life?
Keaton:  Love
BWG:  3.     If someone made a bumper sticker about you, what would you want it to say?
Keaton:   Keaton Simons says, "Love yourself!"
BWG:  4.     If I wanted to buy you a drink at a show, what should I order?
Keaton:  Water, please!
BWG  5.     The 5th question in which you think up a question to ask yourself (then answer it).
Keaton:   I'll ask myself the same question I always ask myself. "Who am I?" I'm happy to say the answer is still, I don't know. 🙂
---
Thank you again Keaton! Oh! And here's your bumper sticker!

If you want to find out more about Keaton, his official website is keatonsimons.com. He has a facebook here and his twitter handle is @keatonsimons.
*Thanks to our friend Laurel for this question.