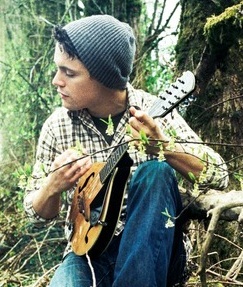 I only recently discovered Joshua Hyslop, and in fact even more recently featured him in a blog post where I shared a few of his music videos. I really love his new CD Where the Mountain Meets the Valley which you can stream in its entirety here and then of course purchase here.
I was curious to find out more about this up-and-coming artist and so I hit him up with an interview, which he graciously accepted. I'm glad I did because he's got so much more going on than I realized. I hope you'll take a moment to listen to some of his music – you know, like here. Go on, you can listen to it while you read the interview below.

BWG: First of all, I was surprised to discover that you're relatively new on the music scene. Your music has a kind of maturity – a patience and a willingness to let the song take its time – I expected you to have been at this a lot longer. How long had you been writing and performing before recording your EP, Cold Wind, last year?
Joshua: Well, thank you. I've been writing since I was 15 and performing since I was around 16. So I'm definitely not new to writing and performing, but I am new to the label. Up until last year, I've just been doing this on my own.
BWG: How did you get your start in music?
Joshua: When I was 15, my dad taught me G, C, and D on the guitar and I taught myself the rest by ear. Over the years I've done the same with piano, banjo, mandolin, ukulele. I never know what specific notes I'm playing, just if it sounds good or not.
BWG: Your music must be getting great promotion for it so quickly to gain my attention considering I've never even seen you perform live. And having seen the number of slick videos that you have for your songs, I can tell you are getting incredible label support from Nettwerk. How did you get signed with them and what has that experience been like?
Joshua: Yeah, things have been moving pretty quickly. It's pretty crazy. I'm very thankful to be signed to Nettwerk. They gave me complete creative control and allowed me to go and create something, as an artist. That's pretty rare. Rarer still, they've been 100% supportive of the album and the EP. So yes, they've done a wonderful job of promoting my music and myself. We've shot several videos and worked really hard to be gaining momentum, but also, a lot of the attention we've been getting lately has just been people connecting with the music. It's very neat to get to see. As I said, I'm new to all this label stuff. I got signed to Nettwerk last year after Terry McBride and Mark Jowett came out to a show I was playing at the Backstage Lounge. My friend and I had just finished recording my EP, Cold Wind, and had set up a few smaller shows. Terry came up to me after the show and we arranged to meet a few days later. Everything happened pretty quickly after that.
BWG: I read that you get very nervous prior to performing. How do you handle gaining recognition so quickly?
Joshua: It's true. I used to throw up before every show. I've gone a few shows now where I haven't thrown up, but the nerves are still there. I'm not a shy person around friends, but I'm very shy around new people. I've always been terrified of the idea of being on stage in front of people. That is not my comfort zone. So it's difficult. But at the same time, I think one of the reasons I get so nervous is that I really care about what people think of the songs. So in a way, it's good, because it means I still care. The day I can walk onstage all nonchalant, wearing a plastic smile and not even break a sweat, is the day my music career should end.
BWG: You are compared to a number of mainstream and indie musicians, from Damien Rice to Sufjan Stevens. My first impressions of your music put you more in the traditional folk songwriter genre (though I am easily influenced by the appearance of banjos). How would you describe your music?
Joshua: It's hard to say. As soon as you mention other musicians or genres of music as a way of identifying your sound, you immediately attract comparison. I like to say there are aspects, or flares of, many different sounds in my music. I'm not trying to sound like someone else, or any particular genre. I like the way my guitar sounds, and my banjo, and my cello. But nothing is written in stone. I co-produced my album with a friend of mine dubbed, Digory Smallz, and we approach every song as unique. Then we try to bring out the voice of the song. So some of my music is more "mainstream", in that, it's been more produced and has a fuller sound. Other songs of mine are more "indie" because they're more stripped down and simple. But I stay away from describing my sound or my songs as anything too specific, I just let the songs speak for themselves.
BWG: What musicians have inspired you to become the songwriter you are today?
Joshua: Paul Simon, Ryan Adams, Sam Beam, Jeff Tweedy, Johnny Cash, and the list goes on and on. I listen to a lot of music and have done so for many years. I've always liked the idea of one person and a guitar. There's a lot more emphasis on the lyrics and I find that really attractive. Lately I've been listening to Kathleen Edwards a lot, as well as Feist's new album. There's a lot of inspiration to be found there.
BWG: What drives you to write songs?
Joshua: To be honest, I don't ever think of myself as a song writer. I often write a song and then wonder how on earth I managed to do that. But when I do write, it's usually because of something I've gone through or am going through or have seen or have heard about. Sometimes it's relationships, sometimes it's spiritual, sometimes it's a conversation between two people. It can be anything.
BWG: Your beautiful new CD Where The Mountain Meets the Valley was recently released. Was there an over-arching feel that you were looking to achieve with this CD?
Joshua: We weren't going for a cohesive sound for the album. Sometimes, I'm able to see songs and music in colors, and so for my EP, Cold Wind, I put songs together that had a bright greenish blue or yellow color to them. The album, 'Where the Mountain Meets the Valley' wasn't named that at first. It was originally going to be another EP and it was a lot more red, with songs like 'Have you Heard?' and 'First Light'. But we decided to make it a full length album which meant rethinking how it would look as a whole. Also, a lot had happened to me in my personal life, some ups and some downs which is where the imagery of mountains and valleys came from. So it was a combination of colors and life experiences. My good friend, Alie O'Connor did the album art for the EP and for the album. For both of those records I gave her a series of pictures, colors, keywords and images and told her what I was hoping for. In both of those pieces I feel as though the album art perfectly captures the themes of the albums and the colors of the songs.
BWG: You seem to have traveled a fair amount. Where did you grow up and where all have you traveled?
Joshua: I was born in Saskatoon, Saskatchewan. My family moved to Portland, Oregon shortly after. Then we moved to Abbotsford, BC. I grew up, mostly in Abbotsford. When I was 15 we moved to Inverness, Scotland for a year. I've been back several times since. So now, I've been to Scotland, Ireland, Northern Ireland, England, across Canada, down through Washington, and Oregon, Texas, Mexico, India, Cambodia, Thailand, Vietnam, and Laos.
BWG: How have your travels impacted your perspective?
Joshua: They've definitely made me think twice before complaining about my life here in Canada. It's very easy to get caught up in our lifestyles here in the West, without realizing how incredibly easy we have it. India, especially, opened my eyes to that. It was a completely invaluable experience and I wouldn't trade it for anything.
BWG: Now that you are married (congratulations!), do you intend to lay down roots in British Columbia or do you suffer from a wanderlust that touring alone won't satisfy?
Joshua: Well, luckily, I married a girl who wants to travel just as much as I do! When we were still dating and I'd been in India for six weeks alone, she joined me and, after another month in India, we traveled South East Asia together. We're going to Peru this year for a few weeks, and are hoping to be always traveling. We want to see some of Africa, Spain, Japan, India again, and as much of the world as we can. One day, far off in the future, when we do decide to settle down, I imagine it would be in BC, but who knows?
BWG: Have you experienced any unusual adventures in your travels?
Joshua: Many. I almost died twice in India. The second time was because I got a GI infection and couldn't even take in water. So by the time they got me to hospital I was delirious. They had to pump me full of antibiotics, pain killers, and saline, to try and save my life. It worked! Crossing the border into Cambodia, someone randomly came up to me and told me not to take the 'health test' which costs $30, to get into the country. He said it was a scam, and that I should take out my camera and threaten to photograph the police who hand out the test. Then he slipped off into the crowd. When my turn came, the police tried to hand me the test and I slowly walked past them. They followed me and screamed in my face that they would arrest me, and kept trying to shove the test into my hand. So I took out my camera and they left and I got my passport back stamped and everything. It was crazy.
BWG: What other activities are you passionate about?
Joshua: I love to read. I'm always reading at least one book. I love sports. I played soccer (football) for about 8 years, and I'm currently pursuing rock climbing. I also love a glass of red wine and hanging out with friends.
BWG: What authors do you like most and what are you currently reading.
Joshua: Because I read a lot, I'm not entirely sure that I have a favorite author. It's always changing. So far, a few of my favorite books are Crime and Punishment by Dostoevsky, Shantaram by Gregory David Roberts, and Einstein's Dreams by Alan Lightman. I'm currently reading Outliers by Malcolm Gladwell and The Satanic Verses by Salman Rushdie.
BWG: I noticed that your tour dates take you as far east as Quebec but always in Canada. When will you next tour in the US?
Joshua: I've never toured in the US. I would love to! Hopefully that will come sooner rather than later!
BWG 5
These are questions that we ask in all of our interviews:
BWG: 1. Pimp a musician. Tell us about a fellow up and coming artist you'd like everyone to get to know.
Joshua: I think everyone should check out my pal Mark Walters. He is an insanely gifted singer songwriter. He just finished his first full length album and it's great!
BWG: 2. In a word, what is the meaning of life?
Joshua: The first word that came to mind was 'bowling'. I have no idea why. So I'm going to stick with that.
BWG: 3. If someone made a bumper sticker about you, what would you want it to say?
Joshua: I brake for David Attenborough.
BWG: 4. If I wanted to buy you a drink at a show, what should I order?
Joshua: Jack and Coke, or Gin and Tonic.
BWG: 5. The 5th question in which you think up a question to ask yourself. (then answer it)
Joshua: Q. What's the average lifespan of a typical hummingbird?
Joshua: A. I was hoping you'd ask. The average lifespan of a typical hummingbird is anywhere from 3 to 4 years.
---
Thank you again Joshua! Oh! And here's your bumper sticker!

If you want to find out more about Joshua, his official website is joshuahyslop.com. He has a facebook here and his twitter handle is @joshuahyslop.
*Thanks to our friend Laurel for this question.