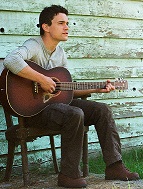 Every few months I collect hundreds of songs from various free downloads I find and albums I buy and then I put the new songs on repeat in the background and see which ones stand out. Those songs get moved into a special folder of songs I don't want to lose. I was making my second collection of the year and noticed Joshua Hyslop was already in my folder from my first collection… That's when I knew I should probably look a little harder at this amazing songwriter with a voice as vulnerably seductive as Damien Rice and songs as poignant as any folk-acoustic songwriters out there today. This year he released his CD Where Mountain Meets Valley, a gorgeous collection of airy magic. Have a listen to some of the songs featured on this CD below:
Nowhere Left to Go

What Have I Done?

Do Not Let Me Go

You can find out more about Joshua at his offical site: http://www.joshuahyslop.com
Also he's on Facebook and Twitter.