I'm a central Virginia-based contemporary romance writer. I work by day as a computer programmer/DBA. Theoretically, I love to travel, but until I find a patron to fund my trip around the world, I placate my wanderlust by letting my characters hop on a plane and hang out in Paris. I'm currently represented by Lizzie Poteet at the Seymour Agency.
My novels are available here.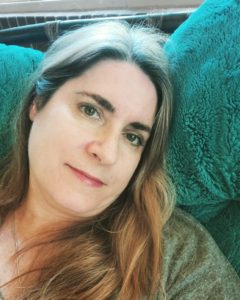 1. List of random things I like:
TV: Community, IT Crowd, Doctor Who, Colbert, John Oliver, Better Call Saul, The Witcher, Umbrella Academy, Stranger Things, Our Flag Means Death.
Movies: Guardians of the Galaxy, Fight Club, Pride and Prejudice (Colin Firth one), Bridget Jones's Diary (Did I mention Colin Firth?), Say Anything, The Fall (with Lee Pace, yum), Monty Python's Holy Grail, Tangled (most kid movies really), and all things Star Wars.
Books: Call Me By Your Name, Carry On, A Seditious Affair, The Hating Game, The Kiss Quotient, Game of Thrones, The Name of the Wind, Les liaisons dangereuses, The Poisonwood Bible, Tangled, Gone Girl, Outlander, Harry Potter, The Thorn Birds, Attachments, Hitchhiker's Guide to the Galaxy, The Dark Tower series, 1984, A Court of Mist and Fury, The Cruel Prince, and everything Alexis Hall.
Music: Indie (Beck, Elliott Smith, The Shins, Arctic Monkeys), indie folk (The Head and the Heart), rock (David Bowie, Queen), musicals (Les Miz, Hamilton, JCS), disco (Donna Summer, ABBA), oldies (Etta James), some rap (Eminem), some metal (Metallica), Reggaeton, some of this, some of that.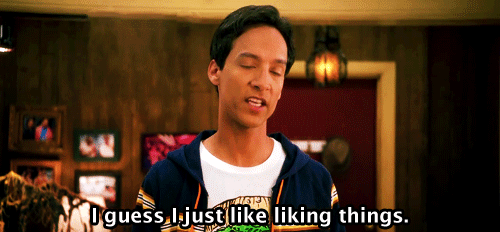 2. I am the most socially awkward person alive. This is my defining characteristic.
3. I have a deep-seated love of languages, whether it be French, German, or Java. Starting in sixth grade when my class had a unit on London and Paris, I wanted to visit those places. Wanderlust set in early, and I eventually lived and worked in France and Germany. I've now traveled to England, France, Luxembourg, Portugal, Germany, Belgium, The Netherlands, Switzerland, Italy, Monaco, The Czech Republic, Hungary, Italy, Canada, Bermuda, Mexico, Jamaica, The Bahamas, but still have a long list of countries I'm in dire need of visiting. The travel bug may have come naturally as I've lived in the following states (in order): Massachusetts, Minnesota, Tennessee, Ohio, Indiana, Maryland, Georgia, Alabama, Kansas, Florida, Virginia, New Jersey.
I got my BA from Auburn University, my MA from the University of Florida, and I was working towards a doctorate in French literature at the University of Virginia, when I suddenly had the revelation that learning a computer language wouldn't be that different, and might pay more. I dropped out of Academia and after some learnin', got a job working in lower Manhattan programming trading software at a Wall Street bank… for about five years. Bit of trivia about me – I was working in the World Trace Center (North tower 38th floor) on 9/11. Yes, I got out. (I have been asked that.)
I'm still one of the very few women nerdy IT geeks programming at my company, but I'm doing it in central Virginia now.
4. I've held the following jobs for a few months or a few years:
Hostess, waitress, record store clerk, arts and craft store clerk, radio DJ, hotel receptionist, teacher, au pair, copy editor, customer service representative, developer, database administrator.
5. I ran cross country in high school and was on an Indiana state championship team one year. Proof (that's me up front with the pitch black hair):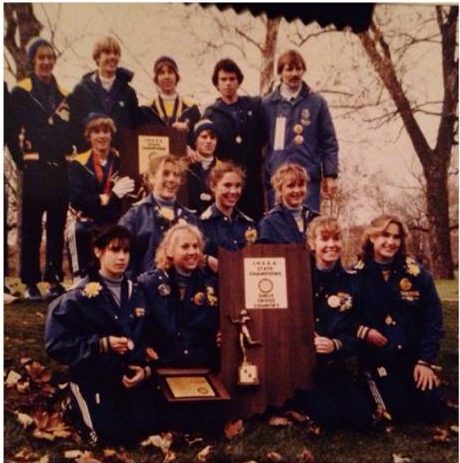 I have a second-degree black belt in karate (proof here), though I would be the first to confess that it wasn't at a very strict school. Still I know my way around a pair of nunchucks.
6. I can't sing that well or play many instruments (a little piano and guitar), but do not stand between me and my air guitar.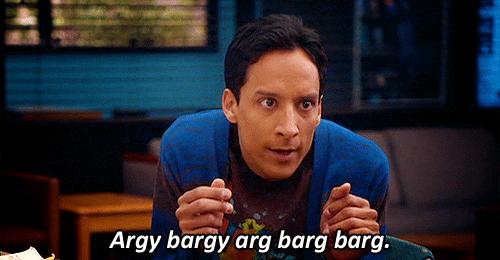 And there's more. There's always more. But you'll just have to get to know me if you want to find out. Hit me up on Twitter: @maryannmarlowe