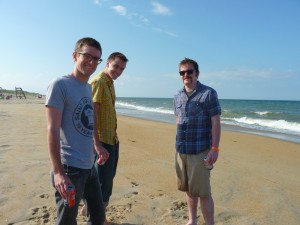 Only occasionally do I encounter one of those artists who hits me on every level – intellectually, emotionally, comically, melodically… The very first time I heard Matt Duke perform, I knew I had discovered a new favorite musician, but over time, I've come to realize that Matt is, to me, one of the rare genius musicians that I will obsess about, obsessively, without ever losing interest. Matt Duke's music has a pop appeal to it on first listen that gives way to layers of discovery that make his songs stand up over time.
I wouldn't begin to be able to choose a favorite song, but in an effort to share, I'm going to post the very song he performed the first time I saw him, which I recorded, with my jaw on the ground. The video is shaky, but the song is a gem. You have to love a lyric like this: "If everyone here is a child a God, this world is a pityless whore, and He's still playing favorites and behind on His child support." I love this song.
As a fan's fan, I will follow a musician like Matt whither he goeth, which is what led me down to Pat McGee's Down the Hatch a couple of weeks back. I was able to sit and listen to Matt perform several sets a day for 3 days. (That's where I took the above picture.) Matt is constantly breathing life into his music, so his performances never get old.
I should add he's seriously the nicest guy you'll ever meet and also naturally hilarious. What's not to love?
Here's a smattering of awesome performances from 3 days and some 7 sets in OBX. I think his versatility speaks for itself.
Needle and Thread

I've Got Atrophy on the Brain

Ash Like Snow

Don't Ask

What else does Matt do? Last year, he toured with Tony Lucca and Jay Nash as a part of their trio TFDI, for which they have released an EP and a full album. Beautiful music, layered with harmonies and good stuff:
Stranger in a Strange Place

Currently, he's also working with a band Seamus Browning who will be performing in Philly soon. They rock the fuck out.
You can find out more about Matt Duke at Matt's official site: http://www.mattdukemusic.net
On twitter: @Matt_Duke
On facebook: http://www.facebook.com/mattdukemusic