I'm psyched to be a part of Kelly Siskind's excerpt blitz for A FINE MESS — another steamy hot romance with so much chemistry and humor, you'll inhale the whole thing like candy. Totally recommend.
A FINE MESS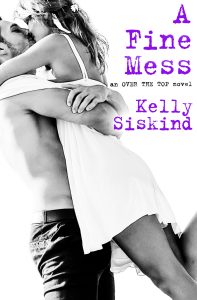 Some guys should come with a warning label…
Sawyer West is Mr. One-Night Stand. He doesn't do relationships or promises or feelings. He's never cared enough to get involved. Until Lily Roberts. She's sweet and shy and sexy as sin, and resisting her is testing his self-control. She believes Sawyer can be a better man, and for the first time in his life, he wants to be. But change isn't easy, and Sawyer would do anything to protect Lily from his past self. Even break his own heart…
On Sale: August 2
Pre-Order:
Amazon | Barnes & Noble | Google Play | iBooks | Kobo
EXCERPT
Sawyer steps close and waits for me to make eye contact. Slowly, I lift my gaze to his gold-flecked brown eyes, but I can't find my voice. It's like I don't know how to talk to him anymore.
He grins. "Hi."
From my angle it's easy to see the scar running down his neck, the remnant of a fall he took through a coffee table while wrestling with his brother. I've always wanted to touch it, feel the puckered skin under my fingers. I drop my gaze, but it doesn't help. The cuffs of his gray button-down are rolled to his elbows, roped muscle exposed below. Something else I'd like to touch.
I blink hard. "Hi," I say to my feet.
"Look at me, Lil." I rock on my heels, then do as asked. He raises an eyebrow. "How fucking weird is this?"
My giggle surprises me, and I loosen my grip on my wineglass. "Totally weird."
Thank God for Sawyer's candid nature.
He sips his drink, probably Scotch, and a sheen of liquid clings to his bottom lip.
Touch that arm. Kiss that scar. Taste those lips. None of these urges are new, but they're heightened. Magnified. He watches me watching him, his gaze as probing as mine. What is he thinking?
Then the music changes.
A remix of Madonna's "Holiday" plays, and Sawyer does Sawyer. He tips his head to the right, his shoulders following, then he pushes out his hip and rolls his torso through. The guy does body waves, alternating from side to side, like he's in an eighties music video.
People stop. People look. People laugh.
I snort, an unattractive sound I make when my laughter takes over. Sawyer says it sounds like a hyena with sleep apnea. When I snort a second time, he dances harder, and I crack up. My belly aches as he gets into it, the entire room watching now.
I suck in a breath, place my empty glass on the table behind me, then clasp his shoulders. "What are you doing?"
He stops dancing. "Making things less weird."
"Less? What about you channeling Paula Abdul is less weird?"
"Did you laugh?"
I grin.
Then he says, "I'm sorry."
The music vibrates in my chest, or maybe it's his proximity. "Sorry about what?"
"Last week, when you called, I was a dick. You caught me by surprise, and I didn't handle it well. So, I'm sorry."
His admission pumps through my core like helium, my body nearly weightless. The confession shouldn't be surprising, not with how he speaks his mind, but it's been a week of silence. I was losing hope things could return to the way they were, or progress past it. I step closer, so he can hear me over the noise. "Apology accepted, but do I get an explanation?"
He drags his gaze down my body. It's a thorough perusal—intimate, penetrating—flames sparking along my skin. His eyes linger on me, but he doesn't speak. He rolls the pinky ring on his left hand the way he does when he's puzzling something out. An ache travels up my thighs, heat expanding below my ribs. The longer he stays quiet, the more my skin tingles.
Finally, he releases his ring and slides his hand over my lower back. He leans forward and whispers, "I've wanted to do very dirty things to you and with you since Aspen, but I care about you too much to act on it. Hence my dickishness and the weirdness."
ABOUT THE AUTHOR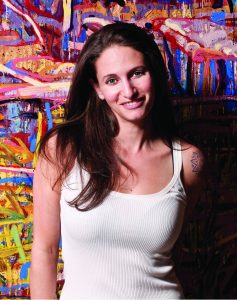 A small-town girl at heart, Kelly moved from the city to open a cheese shop with her husband in Northern Ontario. When she's not neck deep in cheese or out hiking, you can find her, notepad in hand, scribbling down one of the many plot bunnies bouncing around in her head.
She laughs at her own jokes and has been known to eat her feelings-Gummy Bears heal all. She's also an incurable romantic, devouring romance novels into the wee hours of the morning.
Website | Facebook | Twitter | Goodreads
FOLLOW FOREVER ONLINE